SOLD OUT
Rose Gold 14ct Latch Back Leaf Womens Earrings
335069

There are not enough products in stock
Rose Gold 14k Latch Back Leaf Womens Earrings
local_shipping FREE UK next day delivery, £10 INTERNATIONAL DELIVERY
585 Russian Rose Gold 14k Latch Back Leaf Womens Earrings
Measurements:
Length: 10mm
Width: 15mm
Hight: 15mm
Material: Russian Rose Gold 14ct 585
Weight approx: 2.19g
Make it golden with OhMyGold responsibly sourced quality gold jewellery for women, men and children. Whether you're looking for chains, rings, wedding rings, earrings or bracelets, all of our jewellery collections are available in the highest quality 14ct 585 Russian Rose Gold.
Russian Gold has a mix of copper which gives that romantic rose colour that compliments any skin tone. Our 14ct gold is known for being durable and strong unlike yellow gold. We are constantly on the lookout for the most on trend and fashionable jewellery pieces that we believe you will absolutely love.
Having our jewellery handcrafted in Russia we take an extra step to ensure the quality of our jewellery by testing and applying hallmarking by London Assay Office (The Goldsmiths' Company). Therefore, all of our gold jewellery has a quality 585 stamp.
Data sheet
Metal Purity

14k Rose Gold

Metal

Rose Gold

Earrings Fastening

Latch Back

Theme

Flower&Plants

Earrings Style

English Lock

Brand

Oh My Gold

Hallmark

London ASSAY Office

Department

Womens

Metal Stamp

585 Gold
Ring Measurement Guide and Sizes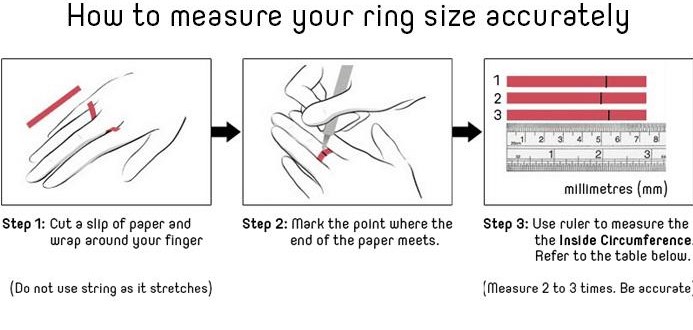 International Ring Size Table
* please note Oh My Gold is using Germany/Russia Ring Size

US / Canada

UK / Australia / South Africa

France

 

Germany / Russia / Ukraine / Asia

India / China / Japan / South America / Turkey / Israel

Italy / Spain / Netherlands / Switzerland

½

A

---

---

---

---

1

B

---

---

1

---

1 1/2

C

---

---

---

---

2

D

41 1/2

13 1/4

2

1 1/2

2 1/4

D-½

42 1/8

13 1/2

---

---

2 1/2

E

42 3/4

13 3/4

3

2 3/4

2 3/4

E-½

43 3/8

---

---

3 3/8

3

F

44

14

4

4

3 1/4

F-½

44 5/8

14 1/4

---

4 5/8

3 1/2

G

45 1/4

14 1/2

5

5 1/4

3 3/4

G-½

45 7/8

14 3/4

6

5 7/8

4

H

46 1/2

15

7

6 1/2

4 1/4

H-½

47 1/8

---

---

7 1/8

4 1/2

I

47 3/4

15 1/4

8

7 3/4

4 3/4

J

48 3/8

15 1/2

---

8 3/8

5

J-½

49

15 3/4

9

9

5 1/4

K

49 5/8

16

---

9 5/8

5 1/2

K-½

50 1/4

16 1/4

10

10 1/4

5 3/4

L

50 7/8

---

11

10 7/8

6

L-½

51 1/2

16 1/2

12

11 1/2

6 1/4

M

52 1/8

16 3/4

---

12 1/8

6 1/2

M-½

52 3/4

17

13

12 3/4

6 3/4

N

53 3/8

---

---

13 3/8

7

O

54

17 1/4

14

14

7 1/4

O-½

54 5/8

17 1/2

---

14 5/8

7 1/2

P

55 1/4

17 3/4

15

15 1/4

7 3/4

P-½

55 7/8

18

---

15 7/8

8

Q

56 1/2

---

16

16 1/2

8 1/4

Q-½

57 1/8

18 1/4

---

17 1/8

8 1/2

R

57 3/4

18 1/2

17

17 3/4

8 3/4

R-½

58 3/8

18 3/4

---

18 3/8

9

S

59

19

18

19

9 1/4

S-½

59 5/8

19 1/4

---

19 5/8

9 1/2

---

60 1/4

19 1/2

19

20 1/4

9 3/4

T

60 7/8

---

---

20 7/8

10

T-½

61 1/2

19 3/4

20

21 1/2

10 1/4

U

62 1/8

20

21

22 1/8

10 1/2

U-½

62 3/4

---

22

22 3/4

10 3/4

V

63 3/8

20 1/2

---

23 3/8

11

V-½

64

20 3/4

23

24

11 1/4

W

64 5/8

---

---

24 5/8

11 1/2

W-½

65 1/4

21

24

25 1/4

11 3/4

X

65 7/8

21 1/4

---

25 7/8

12

Y

66 1/2

21 1/2

25

26 1/2

12 1/4

Y-½

67 1/8

---

---

27 1/8

12 1/2

Z

67 3/4

21 3/4

26

27 3/4

12 3/4

Z-½

68 3/8

---

---

28 3/8

13

---

69

22

27

29
Chains and Necklaces Size Chart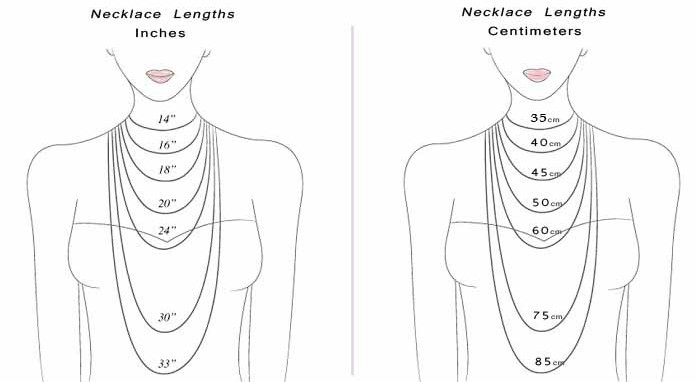 Looking for something more specific that you couldn't find on the site? For all enquiries, please don't hesitate to contact us directly at:
info@ohmygold.com
or
+44-203-583-3934