Looking for something more specific that you couldn't find on the site? For all enquiries, please don't hesitate to contact us directly at:
info@ohmygold.com
or
+44-203-583-3934
Heart Diamond Bracelet
Q3319425180

Last items in stock
18ct Solid White Gold with Round Brilliant Diamonds Bracelet
local_shipping FREE UK next day delivery, £10 INTERNATIONAL DELIVERY
Wear your heart on your sleeve with this shimmering white gold and diamond bracelet.
This delicately beautiful 18ct white-gold bracelet is the perfect backdrop for a shining diamond heart charm. Embellished with 12 exquisite round diamonds, it is an accessory that adds a layer of luxury to any outfit. Partner it with our coveted Heart Diamond Earrings for an easy, feminine finish or layer up with coordinating bracelets for a luxury take on a bohemian-inspired trend.
The bracelet features an adjustable design which means you are guaranteed the perfect fit. It also showcases our unique DRAJÉE London charm, the exclusive symbol of our luxury collection. Each of our special accessories is certified in accordance with the Hallmarking Act 1973.
Product Features:
Weight approx.: 4.5 g.
18ct Solid White Gold
Round Brilliant Diamonds - 12 pcs., 0,35 ct.tw.
Lobster clasp fastening
Ring Measurement Guide and Sizes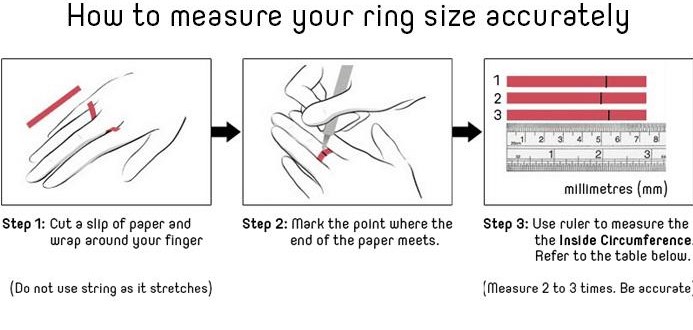 International Ring Size Table
* please note Oh My Gold is using Germany/Russia Ring Size

US / Canada

UK / Australia / South Africa

France

 

Germany / Russia / Ukraine / Asia

India / China / Japan / South America / Turkey / Israel

Italy / Spain / Netherlands / Switzerland

½

A

---

---

---

---

1

B

---

---

1

---

1 1/2

C

---

---

---

---

2

D

41 1/2

13 1/4

2

1 1/2

2 1/4

D-½

42 1/8

13 1/2

---

---

2 1/2

E

42 3/4

13 3/4

3

2 3/4

2 3/4

E-½

43 3/8

---

---

3 3/8

3

F

44

14

4

4

3 1/4

F-½

44 5/8

14 1/4

---

4 5/8

3 1/2

G

45 1/4

14 1/2

5

5 1/4

3 3/4

G-½

45 7/8

14 3/4

6

5 7/8

4

H

46 1/2

15

7

6 1/2

4 1/4

H-½

47 1/8

---

---

7 1/8

4 1/2

I

47 3/4

15 1/4

8

7 3/4

4 3/4

J

48 3/8

15 1/2

---

8 3/8

5

J-½

49

15 3/4

9

9

5 1/4

K

49 5/8

16

---

9 5/8

5 1/2

K-½

50 1/4

16 1/4

10

10 1/4

5 3/4

L

50 7/8

---

11

10 7/8

6

L-½

51 1/2

16 1/2

12

11 1/2

6 1/4

M

52 1/8

16 3/4

---

12 1/8

6 1/2

M-½

52 3/4

17

13

12 3/4

6 3/4

N

53 3/8

---

---

13 3/8

7

O

54

17 1/4

14

14

7 1/4

O-½

54 5/8

17 1/2

---

14 5/8

7 1/2

P

55 1/4

17 3/4

15

15 1/4

7 3/4

P-½

55 7/8

18

---

15 7/8

8

Q

56 1/2

---

16

16 1/2

8 1/4

Q-½

57 1/8

18 1/4

---

17 1/8

8 1/2

R

57 3/4

18 1/2

17

17 3/4

8 3/4

R-½

58 3/8

18 3/4

---

18 3/8

9

S

59

19

18

19

9 1/4

S-½

59 5/8

19 1/4

---

19 5/8

9 1/2

---

60 1/4

19 1/2

19

20 1/4

9 3/4

T

60 7/8

---

---

20 7/8

10

T-½

61 1/2

19 3/4

20

21 1/2

10 1/4

U

62 1/8

20

21

22 1/8

10 1/2

U-½

62 3/4

---

22

22 3/4

10 3/4

V

63 3/8

20 1/2

---

23 3/8

11

V-½

64

20 3/4

23

24

11 1/4

W

64 5/8

---

---

24 5/8

11 1/2

W-½

65 1/4

21

24

25 1/4

11 3/4

X

65 7/8

21 1/4

---

25 7/8

12

Y

66 1/2

21 1/2

25

26 1/2

12 1/4

Y-½

67 1/8

---

---

27 1/8

12 1/2

Z

67 3/4

21 3/4

26

27 3/4

12 3/4

Z-½

68 3/8

---

---

28 3/8

13

---

69

22

27

29
Chains and Necklaces Size Chart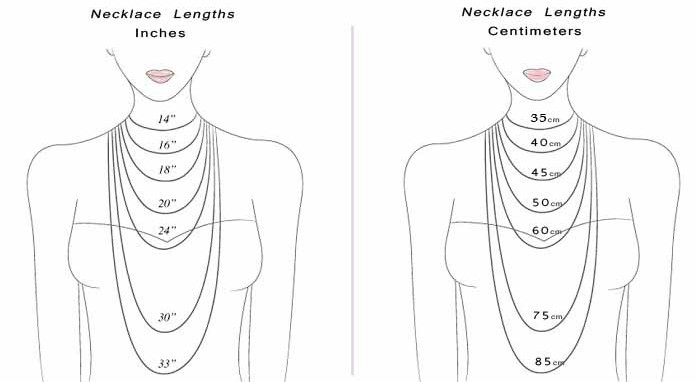 You might also like