585 14k Yellow Gold Crystal Chain
16550_AGR1802-3_a

Last items in stock
14k 585 Yellow Gold Crystal Chain
local_shipping FREE UK next day delivery, £10 INTERNATIONAL DELIVERY
High Quality 585 14k Yellow Gold Necklace  
Measurements:
Length 45cm
Width: 4mm
Weight approx: 4.6 g

Stones: Cubic Zirconia
Material: Rose Gold 14ct 585


- Classic and attractive necklace made of pure 585 14 Yellow Gold

- Certified gold quality by London ASSAY office; 585 metal stamp
- This necklace is very lightweight and comfortable to wear.
- Yellow Gold necklace is long lasting that is hypoallergenic.

Jewelry Maintenance
- To reserve the brilliance of your Jewelry, remember to keep your Jewelry in a dry and clean place. 
- During daily use, you would need to protect them from shocks, sweat, water etc.
- Taking care to maintain them periodically, your Jewelry can last longer.
Data sheet
Metal Purity

14k Yellow Gold

Metal

Yellow Gold

Main Stone Colour

Clear

Theme

Beauty

Brand

Oh My Gold

Main Stone Shape

Round

Hallmark

London ASSAY Office

Department

Womens

Metal Stamp

585 Gold
Ring Measurement Guide and Sizes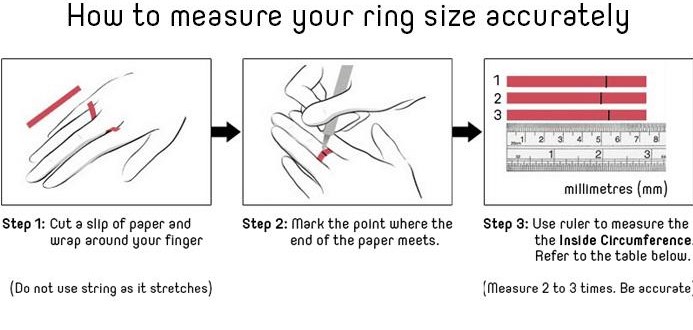 International Ring Size Table
* please note Oh My Gold is using Germany/Russia Ring Size

US / Canada

UK / Australia / South Africa

France

 

Germany / Russia / Ukraine / Asia

India / China / Japan / South America / Turkey / Israel

Italy / Spain / Netherlands / Switzerland

½

A

---

---

---

---

1

B

---

---

1

---

1 1/2

C

---

---

---

---

2

D

41 1/2

13 1/4

2

1 1/2

2 1/4

D-½

42 1/8

13 1/2

---

---

2 1/2

E

42 3/4

13 3/4

3

2 3/4

2 3/4

E-½

43 3/8

---

---

3 3/8

3

F

44

14

4

4

3 1/4

F-½

44 5/8

14 1/4

---

4 5/8

3 1/2

G

45 1/4

14 1/2

5

5 1/4

3 3/4

G-½

45 7/8

14 3/4

6

5 7/8

4

H

46 1/2

15

7

6 1/2

4 1/4

H-½

47 1/8

---

---

7 1/8

4 1/2

I

47 3/4

15 1/4

8

7 3/4

4 3/4

J

48 3/8

15 1/2

---

8 3/8

5

J-½

49

15 3/4

9

9

5 1/4

K

49 5/8

16

---

9 5/8

5 1/2

K-½

50 1/4

16 1/4

10

10 1/4

5 3/4

L

50 7/8

---

11

10 7/8

6

L-½

51 1/2

16 1/2

12

11 1/2

6 1/4

M

52 1/8

16 3/4

---

12 1/8

6 1/2

M-½

52 3/4

17

13

12 3/4

6 3/4

N

53 3/8

---

---

13 3/8

7

O

54

17 1/4

14

14

7 1/4

O-½

54 5/8

17 1/2

---

14 5/8

7 1/2

P

55 1/4

17 3/4

15

15 1/4

7 3/4

P-½

55 7/8

18

---

15 7/8

8

Q

56 1/2

---

16

16 1/2

8 1/4

Q-½

57 1/8

18 1/4

---

17 1/8

8 1/2

R

57 3/4

18 1/2

17

17 3/4

8 3/4

R-½

58 3/8

18 3/4

---

18 3/8

9

S

59

19

18

19

9 1/4

S-½

59 5/8

19 1/4

---

19 5/8

9 1/2

---

60 1/4

19 1/2

19

20 1/4

9 3/4

T

60 7/8

---

---

20 7/8

10

T-½

61 1/2

19 3/4

20

21 1/2

10 1/4

U

62 1/8

20

21

22 1/8

10 1/2

U-½

62 3/4

---

22

22 3/4

10 3/4

V

63 3/8

20 1/2

---

23 3/8

11

V-½

64

20 3/4

23

24

11 1/4

W

64 5/8

---

---

24 5/8

11 1/2

W-½

65 1/4

21

24

25 1/4

11 3/4

X

65 7/8

21 1/4

---

25 7/8

12

Y

66 1/2

21 1/2

25

26 1/2

12 1/4

Y-½

67 1/8

---

---

27 1/8

12 1/2

Z

67 3/4

21 3/4

26

27 3/4

12 3/4

Z-½

68 3/8

---

---

28 3/8

13

---

69

22

27

29
Chains and Necklaces Size Chart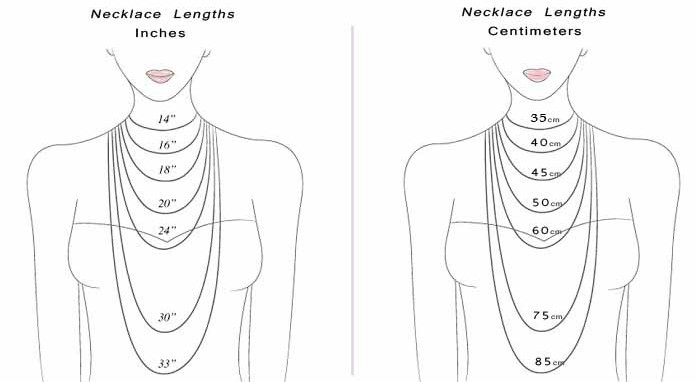 Looking for something more specific that you couldn't find on the site? For all enquiries, please don't hesitate to contact us directly at:
info@ohmygold.com
or
+44-203-583-3934