S925 Sterling Silver Double Zircon Hoop Huggie Earrings
S925 Double Zircon Hoop Huggie Earrings

local_shipping FREE UK next day delivery, £10 INTERNATIONAL DELIVERY
S925 Double Zircon Hoop Huggie Earrings

Measurements:
Length: 8.8mm
Width: 9.5mm

Thickness: 4.7mm
Material: Sterling Silver Rose Gold Plated S925
Stones: Cubic Zirconia
925 Sterling Silver with Rose Gold Plating, S925 Stamp
An extra layer of tarnish resistance(We called it E-coating) is added to extend the life span of the jewelry.
0.1 microns gold plated and E-coating.
100% Eco-friendly - No Nickel, Chromium and Lead.


Our Silver Jewels are dainty & delicate pieces that should be handled with care & caution.

1.Avoid substances such as chlorine,perfume & other chemicals when wearing our Jewels, to prevent discoloration.

2.Please avoid contact with water, other liquids and metals so that it won't lose its color and shimmer.

3.Cubic Zirconia (CZ) stones are placed in a very meticulous manner, to prevent from stones falling out.
Data sheet
Metal Purity

925 Sterling Silver

Metal

Rose Gold Plated

Earrings Fastening

Huggie

Main Stone Colour

Clear

Theme

Beauty

Main Stone

Cubic Zirconia

Earrings Style

Huggie

Brand

Oh My Gold

Main Stone Shape

Round

Main Stone Creation

Lab-Created

Hallmark

London ASSAY Office

Department

Womens

Metal Stamp

S925
Ring Measurement Guide and Sizes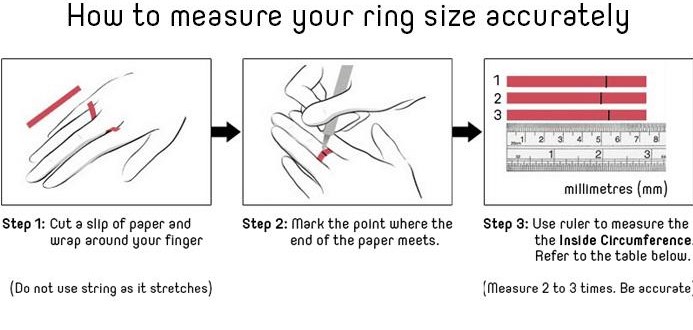 International Ring Size Table
* please note Oh My Gold is using Germany/Russia Ring Size

US / Canada

UK / Australia / South Africa

France

 

Germany / Russia / Ukraine / Asia

India / China / Japan / South America / Turkey / Israel

Italy / Spain / Netherlands / Switzerland

½

A

---

---

---

---

1

B

---

---

1

---

1 1/2

C

---

---

---

---

2

D

41 1/2

13 1/4

2

1 1/2

2 1/4

D-½

42 1/8

13 1/2

---

---

2 1/2

E

42 3/4

13 3/4

3

2 3/4

2 3/4

E-½

43 3/8

---

---

3 3/8

3

F

44

14

4

4

3 1/4

F-½

44 5/8

14 1/4

---

4 5/8

3 1/2

G

45 1/4

14 1/2

5

5 1/4

3 3/4

G-½

45 7/8

14 3/4

6

5 7/8

4

H

46 1/2

15

7

6 1/2

4 1/4

H-½

47 1/8

---

---

7 1/8

4 1/2

I

47 3/4

15 1/4

8

7 3/4

4 3/4

J

48 3/8

15 1/2

---

8 3/8

5

J-½

49

15 3/4

9

9

5 1/4

K

49 5/8

16

---

9 5/8

5 1/2

K-½

50 1/4

16 1/4

10

10 1/4

5 3/4

L

50 7/8

---

11

10 7/8

6

L-½

51 1/2

16 1/2

12

11 1/2

6 1/4

M

52 1/8

16 3/4

---

12 1/8

6 1/2

M-½

52 3/4

17

13

12 3/4

6 3/4

N

53 3/8

---

---

13 3/8

7

O

54

17 1/4

14

14

7 1/4

O-½

54 5/8

17 1/2

---

14 5/8

7 1/2

P

55 1/4

17 3/4

15

15 1/4

7 3/4

P-½

55 7/8

18

---

15 7/8

8

Q

56 1/2

---

16

16 1/2

8 1/4

Q-½

57 1/8

18 1/4

---

17 1/8

8 1/2

R

57 3/4

18 1/2

17

17 3/4

8 3/4

R-½

58 3/8

18 3/4

---

18 3/8

9

S

59

19

18

19

9 1/4

S-½

59 5/8

19 1/4

---

19 5/8

9 1/2

---

60 1/4

19 1/2

19

20 1/4

9 3/4

T

60 7/8

---

---

20 7/8

10

T-½

61 1/2

19 3/4

20

21 1/2

10 1/4

U

62 1/8

20

21

22 1/8

10 1/2

U-½

62 3/4

---

22

22 3/4

10 3/4

V

63 3/8

20 1/2

---

23 3/8

11

V-½

64

20 3/4

23

24

11 1/4

W

64 5/8

---

---

24 5/8

11 1/2

W-½

65 1/4

21

24

25 1/4

11 3/4

X

65 7/8

21 1/4

---

25 7/8

12

Y

66 1/2

21 1/2

25

26 1/2

12 1/4

Y-½

67 1/8

---

---

27 1/8

12 1/2

Z

67 3/4

21 3/4

26

27 3/4

12 3/4

Z-½

68 3/8

---

---

28 3/8

13

---

69

22

27

29
Chains and Necklaces Size Chart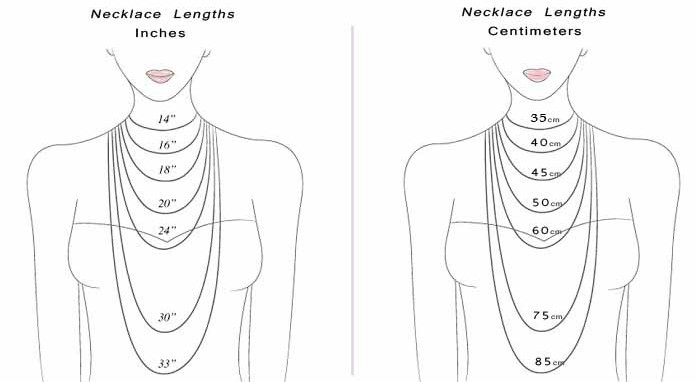 Same category
Looking for something more specific that you couldn't find on the site? For all enquiries, please don't hesitate to contact us directly at:
info@ohmygold.com
or
+44-203-583-3934