Black Rubber Necklace with Three Rose Gold Bars 50cm/20''
337548

Last items in stock
Black Rubber Necklace with 14k 585 Three Rose Gold Bars 50cm/20''
local_shipping FREE UK next day delivery, £10 INTERNATIONAL DELIVERY
High Quality Black Rubber Necklace with Three 14k 585 Rose Gold Bars 50cm/20'' Women Chain/ Men Chain

Measurements:
Length 50cm
Width: 4mm
Material: Rose Gold 14ct 585


- Classic and attractive necklace chain that can be worn alone or with pendant.
- This chain necklace is very lightweight and comfortable to wear, waterproof.
- The rubber chain long lasting and made with three 14k 585 Rose Gold bars that is nickel free, lead-free.

Jewelry Maintenance
- To reserve the brilliance of your Jewelry, remember to keep your Jewelry in a dry and clean place.
- During daily use, you would need to protect them from shocks, sweat, water etc.
- Taking care to maintain them periodically, your Jewelry can last longer.

Data sheet
Metal Purity

14k Rose Gold

Length

50cm / 20 inches

Theme

Beauty

Brand

Oh My Gold

Hallmark

London ASSAY Office

Department

Unisex

Chain Type

Black Rubber
Ring Measurement Guide and Sizes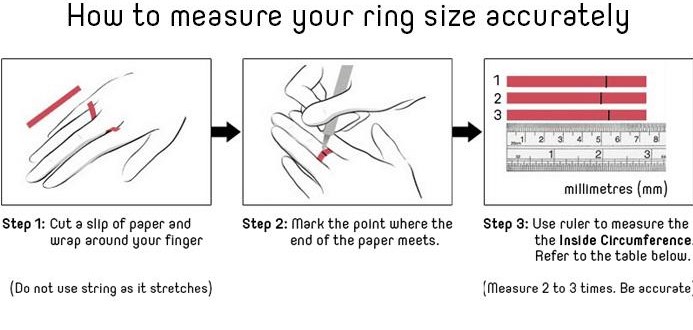 International Ring Size Table
* please note Oh My Gold is using Germany/Russia Ring Size

US / Canada

UK / Australia / South Africa

France

 

Germany / Russia / Ukraine / Asia

India / China / Japan / South America / Turkey / Israel

Italy / Spain / Netherlands / Switzerland

½

A

---

---

---

---

1

B

---

---

1

---

1 1/2

C

---

---

---

---

2

D

41 1/2

13 1/4

2

1 1/2

2 1/4

D-½

42 1/8

13 1/2

---

---

2 1/2

E

42 3/4

13 3/4

3

2 3/4

2 3/4

E-½

43 3/8

---

---

3 3/8

3

F

44

14

4

4

3 1/4

F-½

44 5/8

14 1/4

---

4 5/8

3 1/2

G

45 1/4

14 1/2

5

5 1/4

3 3/4

G-½

45 7/8

14 3/4

6

5 7/8

4

H

46 1/2

15

7

6 1/2

4 1/4

H-½

47 1/8

---

---

7 1/8

4 1/2

I

47 3/4

15 1/4

8

7 3/4

4 3/4

J

48 3/8

15 1/2

---

8 3/8

5

J-½

49

15 3/4

9

9

5 1/4

K

49 5/8

16

---

9 5/8

5 1/2

K-½

50 1/4

16 1/4

10

10 1/4

5 3/4

L

50 7/8

---

11

10 7/8

6

L-½

51 1/2

16 1/2

12

11 1/2

6 1/4

M

52 1/8

16 3/4

---

12 1/8

6 1/2

M-½

52 3/4

17

13

12 3/4

6 3/4

N

53 3/8

---

---

13 3/8

7

O

54

17 1/4

14

14

7 1/4

O-½

54 5/8

17 1/2

---

14 5/8

7 1/2

P

55 1/4

17 3/4

15

15 1/4

7 3/4

P-½

55 7/8

18

---

15 7/8

8

Q

56 1/2

---

16

16 1/2

8 1/4

Q-½

57 1/8

18 1/4

---

17 1/8

8 1/2

R

57 3/4

18 1/2

17

17 3/4

8 3/4

R-½

58 3/8

18 3/4

---

18 3/8

9

S

59

19

18

19

9 1/4

S-½

59 5/8

19 1/4

---

19 5/8

9 1/2

---

60 1/4

19 1/2

19

20 1/4

9 3/4

T

60 7/8

---

---

20 7/8

10

T-½

61 1/2

19 3/4

20

21 1/2

10 1/4

U

62 1/8

20

21

22 1/8

10 1/2

U-½

62 3/4

---

22

22 3/4

10 3/4

V

63 3/8

20 1/2

---

23 3/8

11

V-½

64

20 3/4

23

24

11 1/4

W

64 5/8

---

---

24 5/8

11 1/2

W-½

65 1/4

21

24

25 1/4

11 3/4

X

65 7/8

21 1/4

---

25 7/8

12

Y

66 1/2

21 1/2

25

26 1/2

12 1/4

Y-½

67 1/8

---

---

27 1/8

12 1/2

Z

67 3/4

21 3/4

26

27 3/4

12 3/4

Z-½

68 3/8

---

---

28 3/8

13

---

69

22

27

29
Chains and Necklaces Size Chart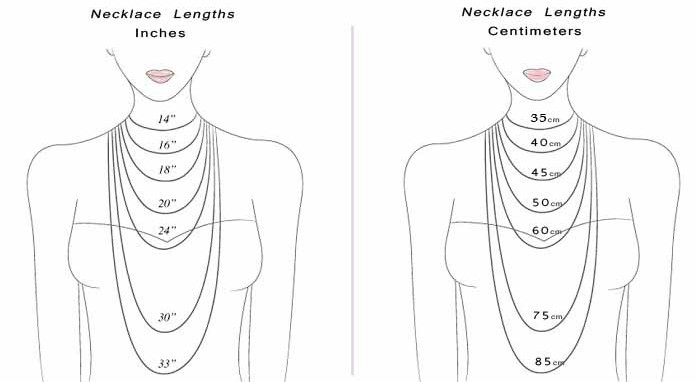 Looking for something more specific that you couldn't find on the site? For all enquiries, please don't hesitate to contact us directly at:
info@ohmygold.com
or
+44-203-583-3934